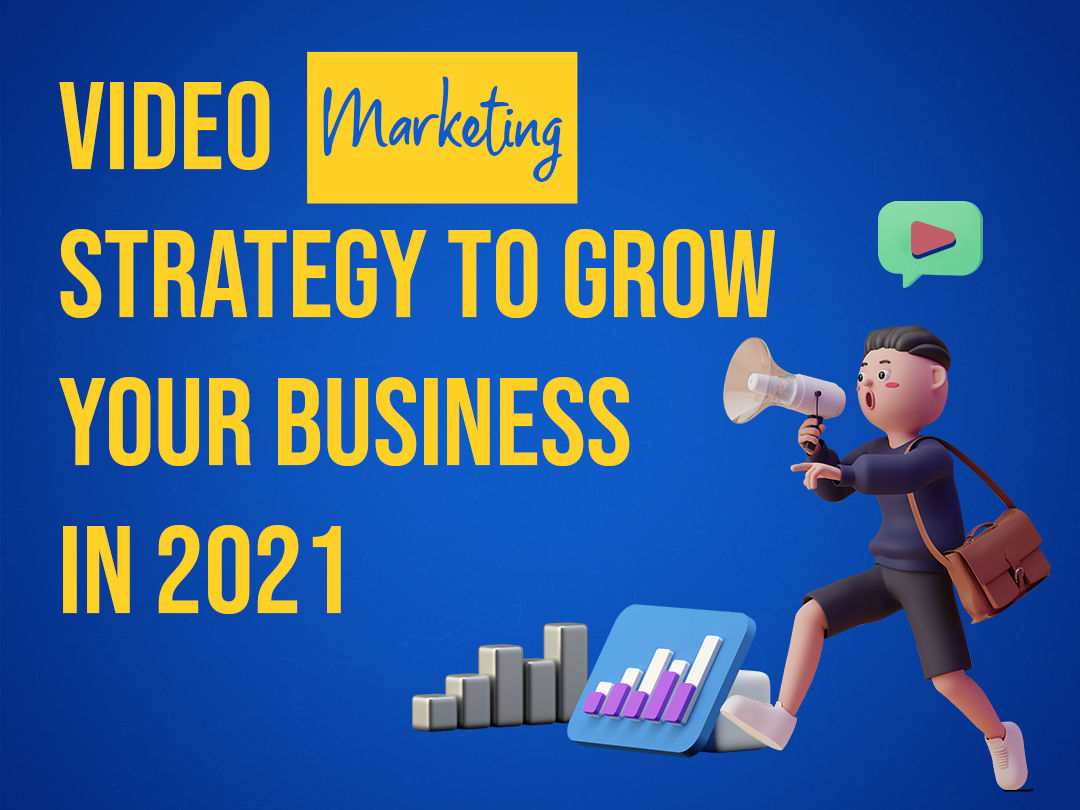 You are here because you have come to know the importance of Video Marketing now. The promotion of brands is not only about content filling and posting images alone, it is about knowing the brand in detail with a creative video.
Video Marketing is a dominant strategy in Social Media. People who are new to this will have a clear understanding of the current trend.
Also, for people who are aware of it but have not started implementing it, this is the right time to read this article and start your promotion.
What is Video Marketing?
In general, Video Marketing is nothing but using videos to boost up and market your product or service, increase customer engagement on your digital and social channels, educate your consumers and customers, and reach your audience with an advanced medium.
Where nowadays, everyone has been looking for updated strategies that improve your business, trying out many and succeeding too. But still have not tried creating a video for your business promotion? Then, you are falling behind. Don't panic.
Want to Know in Detail How Video Marketing Helps Your Business? And What Kind of Marketing Strategies It Deals With?
Let's quickly check it without any further delay..
How Video Marketing Helps My Business?
We have already discussed what is Video Marketing, now without any further discussions let's take a quick step towards How Video Helps to Grow Your Business.
5 Benefits of Video Marketing:
1. Increases Brand Awareness
Video Marketing always plays a prominent role in a business. Even Google likes video content more than lengthy stuff. Videos do an excellent job in boosting your brand awareness.
Videos can tell a story, about products/services, benefits, or features funnily or entertainingly to reach your target audience.
By presenting such videos you can do a better job in showing your clients that you know similar values and trust towards your business. If you want to grab your user's attention, then brand awareness through Video Marketing is the only way.
2. Boosts Conversions and Sales
Videos are another benefit for boosting conversions and sales, that should be added to your marketing strategy. It is a proven strategy that when you add a video to your landing page can increase your conversion rate by 80%.
Short and engaging content in your videos will automatically drive conversion and lead to sales. Videos can make you serious money, focus more to reach your potential customers.
3. Improves Trust and Customer Engagement
Videos help to build great connections with your audience. Videos evoke emotions rather than any other medium, whether a video can be posted on social media or a landing page people in need look for videos that give a better understanding of your business.
So, where does the trust issue arise? It is again the same marketing strategy in creating meaningful videos.
Stop selling, instead curate content like videos and let the people come to know that you're providing useful and interesting information about your business. The higher the retention from your users, the higher the trust and conversions are in line.
4. Video Appeals to Mobile Users
Today, no one can imagine a world without mobile phones.
There are billions of people who are using smartphones to reach all their needs. So, to retain customer attention, mobile users are the best phase to focus on.
Videos on mobile can be seen by everyone, they feel it entertaining and educational. Having mobile-optimized videos can retain better traffic to your website as well as generate better relationships with your audience.
Give them a better mobile-friendly video experience that gives real conversions.
5. Video Marketing Can Explain Everything
Are you planning to launch a product or service? Then create a video and show how it works and benefits your audience.
98% of people go for explainer videos to learn more about the product or service they are looking for. Homepage explainer video was proven to be effective for many businesses so far.
If it is a difficult concept to convey, try animated videos. Content can be of any type, make videos related to that storyline to reach your customers.
The only motive of businesses is to raise brand awareness, create engagement and customer retention, trust, and at last the conversion always. Videos are great, but before going for it, build a strategy that works for your business.
How to Create a Video Marketing Strategy?
So far we have learned how video marketing will help your business and what it is actually?
Now let's make sure whether those videos will fit your target audience.
To make such practices, we need to build a Video Marketing Strategy on how to showcase your brand in promoting your product and services to your audience.
The idea is to make the audience stay and get engaged with the brand in a way that's simple and easy to digest.
Set Your Video Goals
Firstly to make a video, set your video goals, outline what you're planning to do. At every stage of the marketing funnel, you need to create a video that fits your targeting audience.
But initially, have a plan on how to target and whom to target?
Here are the marketing plans to delight your customers.
Awareness: Here, a challenge or an opportunity for a brand raises, where people realize that they have a problem.
At this point, a brand should attract users with creative and short concept videos which introduce your brand to a new audience.
Consideration: After a point, the user thinks about how he or she will solve the problem they are faced with.
To consider this, one starts to look out for a solution like asking for recommendations, researching, checking for product/service reviews, and finds an effective solution for the problem.
Decision: Decision-making will nurture your prospects. At this point, one finds a solution for their problem but still lacks something. Present a prospect with proof of customer satisfaction that helps them to choose your product/service over your competition.
Find and Understand Your Target Audience
Now it is clear what stage of the marketing funnel you're planning to target, so it's time to figure out the deliberate audience who needs you and will fit your plan.
Why this is so crucial among others, because if you create a video without any specific audiences in mind, then it is likely to result in a flop. Where viewers who are not in that fit won't watch it nor convert through it. So how does one know who your target audience is?
Who your product or service is for?
What is the actual purpose of the video?
Where does your target audience freak out?
With these three questions answered, you will find out your target audience that fits your business.
Fix a Storyline or Concept, Figure Out What You Want to Tell
Deciding on what story you want to tell and creating a video to match your outline perfectly seems to be the difficult part of Video Marketing.
Make an outline that gives the basic framework of your story, where at some point it reaches your audience with various emotions. It can be an inspiration, a funny part, or a solution for them. So choose every element wisely.
Support with a Goal
Find the Conflict
Make a Pursuit
Scope for a Resolution
These four elements will drive your viewers' point in diverting them as your customers. Where this helps to find your mission in the journey of reaching your goals.
Keep Precise and Creative Requirements in Line
There are things one needs to go through before a brand publishes a video. Keep in mind that a team behind you needs to approve your videos, like your Manager, Marketing Team, or your CEO.
Sudden changes in the storyline, concept, graphics, etc., can throw your whole efforts off. So to make it implement, take a deep breath, plan for a storyline that is meaningful and creative, make it approved before you create, and move on with the video promotions.
Not only planning works for great Video Marketing. Fixing a timeline for the entire production marks more importance to the creation and effort you make through. It tells what you have so far and what else to need to do to complete your production. Take a crucial step to schedule your production that makes a good sense of marketing.
Maintain a Realistic Budget
Money rules everything. We all know planning for the budget is the other crucial factor, without a proper budget there could be nothing happened.
Plan for the resources and make a budget according to it. Plan for how you're going to make your story happen within your budget, it can be creative or smart, at the end of the day, it should be saved.
Make research, ask experts on how much other industries or businesses charge for such video making, or whether freelancing can save all these too much spending.
Don't feel bad in asking all about these, a loss can't be taken when it comes to money. Make a research before you plan and create a Video.
Now we all know about how Video Marketing Strategy can be implemented in various channels or platforms that make real conversions. But it is not the end part of promoting the video you create.
Make your videos reach social media channels that drive more traffic and help to reach your business goal.
Social Video Marketing is one of the best practices that need to be followed to reach both your existing and potential customers.
Types of Videos?
Sometimes, Facebook status or cute Instagram reels is not enough for business promotions. But to level up your marketing skills, one needs to know more about Video Marketing and its types to promote your business.
Before creating your video, check out the types it works with.
1. Demo Videos:
The purpose of Demo Videos is to exhibit your product or service to your business audience. It is not that exact like an explainer video where you are not going to explain about the product. But show off the perks, benefits, and features of your product/service.
2. Brand Videos:
Brand Videos are any kind of video that is created to highlight a brand's services or products that brings initial awareness and sales from its target audience.
The marketing content whether it is sponsored or created increases the brand value while sharing. Generally, Branded content never involves traditional advertising, such as TV Commercials or Banner Ads, instead, it includes Articles, YouTube Videos, and Podcasts.
3. Explainer Videos:
Explainer Videos are short internet marketing videos used to explain your company's product or service. In common, an Explainer video is used to help your audience better understand why they need your product or service.
These kinds of videos are often placed on a landing page, your website's home page, or a prominent product page. For a creative explainer video try some animated illustrations or a live recording that makes the video clear and attractive.
4. Event Videos:
Is your business hosting any round table conference, meetings or discussions, presentations, or an interview? Capture the highlights from the gathering and release them as a content promotional video.
To bring your audience into your business host an event and get them an authentic experience of your industry.
5. Expert Interviews Videos:
This Video Marketing is a kind of influencer marketing. Capturing Interviews with industry-specific or internal business experts is the best way to build trust and authority with your target audience. Whether it may be the exact thing you want to show or not, just educate your audience and get these discussions heard by them.
6. How-To or Educational Videos:
Educational or Instructional Videos are used to educate your audience which is new to them or some kind of elementary knowledge on the product or service which helps them better understand their needs from your business. Understand your customers and find their needs better to make this video more transparent.
7. Animated Videos:
Animated Videos are most commonly used by people or a company to attract and engage with their audience.
Animated videos are the compilation of audio recordings along with related visual illustrations. This video includes animated characters, text, gifs to make complex data simpler to understand.
To convert potential customers, try with some strong visuals and good content that directly reaches your audience.
8. Customer Testimonial Videos:
Customer Testimonial is not a new concept as it was already implemented by many businesses on their website to make their brand visible. Even now, it works.
If you are new to the industry then try this. To attract new customers, crack a video with your existing customers to improve your brand value.
When they see how your existing customers have experienced your service or product, new customers will be excited for the same with your business.
9. 360° & Virtual Reality Videos:
360° and Virtual Reality are the popular ones in Video Marketing. As every user feels the experience of the physical location or the event. The user feels excited to know more about the location where it helps to find the content from every angle. Virtual Reality allows users to navigate and control their experience throughout the video.
10. Branded Short Film:
Last, but not least. Branded Short Film was the one creative form of Video Advertising that gives your brand a successful ending.
A short line of a story about your product or service makes a perfect brand awareness with a serious concept of characters and a story.
More part of taking commercials has become a common thing for a brand, make an opportunity in placing a product in your film to get more exposure.
Examples of Video Marketing?
Marketing professionals are well aware of the power of creating viral videos and use the same technique in selling and promoting their brands.
Whether it can be hilarious one or emotional storyline content, we all love to look out for such videos that are very interesting as it attracts us with the connection of the story.
Above All These What Makes a Video Marketing Campaign Successful? Let's have a quick check on it.
Most Marketing Experts accept that a Successful Video Marketing Campaign will offer some sort of value for their targeted audience.
How to make it successful and what are the factors followed by a successful video content creator?
Marketing professionals create videos that are short enough to convey the whole marketing content line, that will leave a long-lasting impression on your audiences.
They will rely on a strong content line, that secretly highlights their benefits and characteristics of their products and services to their customers.
They will create an exciting moment or an impressed feel in their video, which makes people pull their attention in the first 5 seconds.
Experts focus on evoking emotions from their customers as a strategy, but not only for product or service promotion.
Marketers create to feel the impulse in viewers to forward or to share the video with their neighbors.
Here are some top 5 good Video Marketing Examples which went viral with all these strategies. Check out those and educate yourself in accomplishing your brand.
1. Dollar Shave Club
If you're planning for your actual product to go viral in this Video Marketing Trend? Then you could make it incredibly funny, hilarious, and entertaining to watch.
Dollar Shave CEO finds the same strategy in implementing a ton of humor when talking about their brand and their product.
The fact of eagerness builds among people of what funny thing is gonna happen for another few minutes where you even know what the product or service is about.
Not all videos have to be a serious scene towards the marketing content. Some like this rule the marketing industry with more fun and message at the same time. When the script is right, sometimes a single-shot walkthrough, errors and all, is all you need.
2. Budweiser's Some Waits For You At Home
In this video, we can see an ultimate bonding between the man and the dog which connects an emotional wave. At some point, the person leaves with a couple of friends, taking a few beers with him, while telling his dog that he will be back later.
In the end, we see the dog waiting until much later, which leaves us wondering what could have happened or whether they both will meet or not.
This video has a big hit of 1.9 million views, which was viral for a simple message that "Don't Drink and Drive".
The concept line was heartwarming and emotional when it connects a bond between your loved ones. Owning this responsibility can be a great way to captivate the audience towards your brand.
3. GoPro's Fireman Saves A Kitten
Videos featuring cute animals and small kids are always a crowd-puller.
In this video, the dedicated care taken by the fireman towards the kitten was gratifying and that feel just grabs the user's attention, fear of the kitten saved and relief at the end would be a story unfolded.
As people waited for the happy ending after a crisis was the finest reason behind this 44.8 million views.
Just promoting the brands directly doesn't work. Make an indirect approach that is apt or more than beyond with new ideas and angles that creates a broad-minded thought on your brand among your audience.
4. Always' #LikeAGirl
Women have a separate fan base when it comes to related videos like gender equality and female empowerment.
This video in particular grabs to that point, where the marketers will ask the participants to perform activities "like a girl" which goes so viral.
There are children and adults featured in the video that creates an emotional impact among other people.
The video not only touches on an extremely current issue but does so in a way that makes us realize how even small things — like jokes — can be detrimental to the self-esteem of girls and women.
It is important to show off that your company cares about quite just money and is, in addition, looking to form a positive impact on the planet.
5. Dove: Real Beauty Sketches
Dove asked some women to describe themselves to a forensic artist, as he portrayed their pictures without seeing them.
He then sketched another image of the same person as per the perceptions shared in other groups about that woman.
It shows that the two images don't match at all. Women are noted hard on themselves when it comes to their looks. The reason it went viral is most women shared this video between themselves to raise their confidence.
This video reached nearly 69 million views as it changed the perception of women being thinking about their looks.
How to Measure Success for Video Marketing?
So yes! You've now launched a new video? Awesome!
But Wait…
Do you still need to check whether your video was a success? Because a successful video marketing campaign is an essential part for Digital Marketers, to reach out to new audiences and to achieve high potential leads.
Set a Goal, Video Marketing Strategy, and identify the best metrics to reach your business travel towards a successful funnel.
If you don't have an idea about how to measure success in your video marketing campaign, then let's have a quick view of it.
Check on the Best 5 Video Metrics to Measure Success:
1. View Count:
Though it is simplest, it is quite a trickery metric you can see. View Count is known for the number of times your video has been watched by your viewers.
View Count is best to find where it reached your goal in increasing brand awareness and content of video marketing has been working.
However, the method of counting or measuring differs among various channels, like YouTube counts a video for 30 seconds and Facebook it's only 3 seconds.
Share your video as much as you can like where your relevant audience stays, whether in social media or email or even if you need to spend on channels that work it is damn better to reach your audience anyway.
2. Play Rate:
Play Rate is another interesting metric to measure your success. Play Rate is the percentage of page visitors where it shows who clicked your video and how many impressions it received till the end of the video.
If you want to increase your play rate, then follow these steps:
Increase the dimensions of your video embed or move its position on the page.
Move your video to a relevant page — maybe it would be more appreciated or be needed by your viewers.
Pick a more engaging, eye-catching, and relevant thumbnail that evenly attracts your viewers to click and view it.
Change the copy around the video to make sure it precisely communicates its content.
Not all videos will have equal play rates. If thousands of people see your video, but only a few people play it, it's probably time to optimize your content.
3. Social Sharing and Feedback:
If you're on Social Media then you will be familiar with video sharing and commenting. Social Sharing in Video Marketing shows how many shares happened in the count of numbers, like how many people are sharing your video content.
Good way of social shares and comments shows how relevant your content reaches your targeted audience. If a viewer watches your video and takes the time to share it, then it is a good sign of the content you created.
In the same way as to how social sharing is prominent, check what you have received in your comments. Because user comments and feedback helps to improve your metric rate.
Listen to your audience and respond immediately and interact with users who even give negative comments so that it helps to improve better content too.
4. Conversion Rate:
Conversion Rate is the number of leads or customers you have gained through video content. It may be of any conversion like filling a form, making a purchase, or subscribing the measure of success counts on Video Marketing.
Conversion Rate is calculated as the number of times visitors completed the video divided by the number of clicks on your CTA. The right place to fix your video is the landing page where you can get real conversions.
5. Bounce Rate:
Are you planning to place your video on your landing page? Take a note of the bounce rate for the page and the number of times people spent on the page before you place it.
Bounce Rate represents the number of visitors who visit your site but then exit before visiting all other pages in your website without converting.
To correct this, optimize the following:
Page load time
Navigation
Video position, size, and quality
Landing page design
Be sure to check metrics after placing the video in the relevant landing page whether it created an impact. If not, then you need to change your content that attracts your customers.
After all this, What is your plan in creating a video for your business? What is the idea of setting up a video marketing strategy? Keep track of everything you do or perform to attract your audience.
Ready, Set, Action!
I guess you all feel interested and a bit confused to start over the Video Marketing Campaign after reading this article.
You are aware of what Video Marketing does to your business? How to improve brand awareness with video marketing and what was the actual way to start Video Marketing? Don't worry if you're still confused.
Video curation, editing, and marketing seem to be difficult at first, later by practice you feel it is easy and it works to increase your ROI for your business.
Video Marketing in 2021 is a sure way to boost your sales and conversions. Use this concert of marketing to showcase your business information creatively and interestingly to reach your audience.
Start clipping and capturing your things to make a good content video. It's time to make a video that is a key to step success in your marketing strategy.