The Importance of an SEO Firm in Chennai for Business Perspective"
In today's digital age, online shopping and service searches have become the norm. Businesses, including educational institutes, hotels, and more, must establish a strong online presence to reach potential customers. Dezvolta, the leading SEO company in Chennai, can help your business achieve just that.
Developing a robust online presence is a must, not an option, for creating long-term connections with your audience. Dezvolta is your partner in growing your Chennai business.
Businesses Served by Chennai (SEO Company in Chennai )
Chennai serves a diverse range of businesses in India and around the world. Our specialization extends to these important sectors:
E-commerce: Our dedicated team focuses on boosting sales for online shopping websites through effective Ecommerce SEO strategies.
Real Estate Companies: We provide proven SEO services for real estate companies, ensuring their online presence is optimized.
Technical Support: Our SEO experts assist tech-support businesses in achieving tangible results.
Manufacturing Companies: We have a team of SEO experts who specialize in promoting global manufacturing products.
Cleaning Company Practices: Our Cleaning Company Website SEO Services in Chennai help commercial cleaning businesses expand their services in Sydney across Australia.
"We have a proven track record of delivering results for various businesses in Chennai ."
Google Reviews
Dezvolta Chennai is rated 4.9 on Google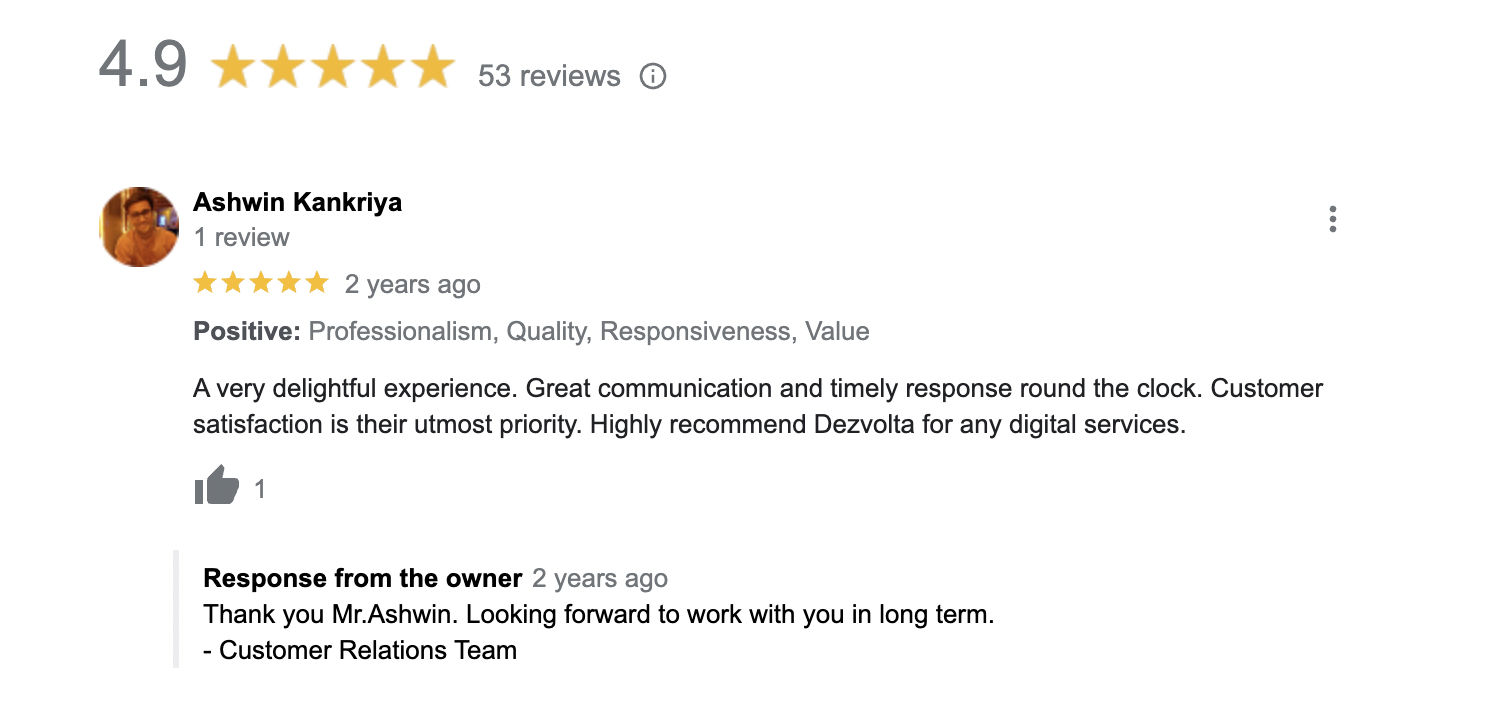 The Techniques Behind Dezvolta's Credibility as an SEO Company
What sets Dezvolta apart as a trusted SEO agency for businesses? Here are some key strategies that define our approach:
Keyword Research: We identify the right niche-based keywords to drive relevant traffic to your website.
Website URL Structure: Understanding your website's URL structure is crucial for SEO success.
Latest Google Algorithms: We stay updated on Google's algorithms, particularly E-A-T (Expertise, Authoritativeness, Trustworthiness).
User-Centric Content: Our approach includes targeting keywords with user-friendly website content.
Structured Data Markups: We implement structured data markups with proper validations for enhanced organic search results.
AI-Powered Reporting and Analysis: We employ AI-powered tools for in-depth reporting and analysis of SEO campaigns.
"At Dezvolta, we're trendsetters, not trend followers. Our marketing strategy is your roadmap to thrive in the dynamic world of SEO."
Searching for the Best SEO Services in Chennai?
Dezvolta is your go-to SEO company in Chennai, offering comprehensive services to businesses of all sizes. We enhance various aspects of your website and promote it, ultimately improving its SERP rankings. Our SEO strategy comprises three main elements:
Technical Optimization
Content Optimization
Phrase and Promotion Optimization
"SEO isn't just about climbing the ladder; it's about sculpting the path that leads your brand to the pinnacle of online success."
Dezvolta SEO Services in Chennai For All Types of Businesses
Our 360-degree SEO services in India cater to various business needs, including:
Strategy Building: Tailored digital marketing strategies for your business's unique goals
Competitor Analysis: In-depth analysis to stay ahead of the competition
Keyword Research: Identifying the most effective keywords for your products and services
Website Auditing: Comprehensive website audits are conducted to identify areas for improvement.
White-hat SEO: Ethical search engine optimization to improve organic rankings
Google Local Listing: Optimizing your presence on Google Maps and local search results
On-Page and Off-Page SEO: On-Page and Off-Page SEO work in unison to create a comprehensive approach to optimizing your website, encompassing page optimization and technical SEO.
Social Media Optimization: Leveraging social media platforms for increased visibility
Content Marketing: Strategic, high-quality content creation for all types of businesses
Brand Building: Enhancing your brand's visibility and ROI through online mediums
"Make the smart choice by picking Dezvolta for exceptional SEO services in Chennai to boost your business."
What Makes Dezvolta the Ideal SEO Company in Chennai for Organic Branding?
Dezvolta is powered by a team of dynamic and talented individuals with experience in various startups. With over 30 team members serving 500+ clients, we have earned a reputation for delivering on our commitments. Our client satisfaction rate is exceptional, and our results are a testament to our vision and dedication.
In the realm of SEO in Chennai, our team's unparalleled expertise and unwavering dedication set us apart.
Why Should You Opt for Dezvolta SEO Company in Chennai for Better SERP Rankings?
Still not convinced? Here are additional reasons to partner with Dezvolta for your SEO needs:
Collaborative Approach: We work closely with our clients, understanding their goals and competitors, to craft effective strategies.
Audience-centric: Our strategies are based on extensive audience research, ensuring maximum impact.
Technical Expertise: Our team possesses coding skills in HTML and CSS, allowing us to optimize websites effectively.
White-hat SEO: We adhere to ethical SEO practices, focusing on long-term results.
Latest Google Algorithms: We stay updated on Google's latest algorithms to provide cutting-edge SEO services.
Proven Results: Our track record speaks for itself—your website will start ranking for top keywords within 45 days.
"We refrain from artificially enhancing keywords; our primary mission is to achieve persistent organic results."
Benefits of Choosing Our White Hat Organic SEO Agency in Chennai
At Dezvolta, we embrace the latest trends and best practices in the SEO industry. Here's why our white-hat SEO approach is a game-changer:
Updated to Google's Algorithms: We stay abreast of Google's latest algorithms, including Panda, Penguin 4.0, Hummingbird, Pigeon, Phantom, and Broad Core Algorithms.
Improved Brand Visibility: Our content and social marketing strategies enhance brand visibility.
Social Media Traffic: We leverage social media platforms to drive traffic.
Quality Backlinks: We create link-building with quality sites through off-page SEO activities.
Affordable: Achieve ROI within 45 days without paying for every click.
"Dezvolta"' white-hat SEO is the key to effective search engine optimization."
Why You Should Team Up with Our Chennai SEO Services ?
Dezvolta isn't just any SEO company in Chennai; we are the best. While there are numerous SEO companies in Chennai, we stand out by offering superior-quality work at a 50% lower cost. We have an impeccable online reputation and employ strategies that guarantee the most search benefits. Our SEO experts are well-versed in the most effective ways to get websites to rank first.
"Our commitment to excellence ensures you receive the maximum benefits from our SEO services in Chennai ."
Is SEO beneficial for businesses in Chennai?
Absolutely, yes. Despite misconceptions, many business owners in India doubt the benefits of SEO. They often believe that implementing SEO techniques is a waste of time and money. However, the statistics tell a different story. Let's take a look at some SEO benefits for businesses in Chennai:
"We're resolute in our mission to bridge the divide and rectify any misunderstandings about how SEO affects business growth."
Benefits of SEO Company for Local Businesses in Chennai
Local businesses sometimes question the effectiveness of online marketing, especially SEO. However, statistics paint a different picture:
Our local SEO service empowers local businesses to reach new heights by tapping into the vast online market. – Dezvolta
Time Needed By Dezvolta (Search Engine Optimization Services) to Rank Business High on Search Results
Implementing SEO on your business website requires both time and expertise. The timeline depends on the competition in your industry. For example:
E-commerce: High competition, longer time required
Local business: medium to low competition, faster results.
National Reach: Competition varies; the timeline is adjusted accordingly.
"Embark on your website's journey to the top for crucial business keywords with Dezvolta, and witness the transformation in just 45 days."
Does it implement SEO services for Chennai businesses?
The rise in internet usage in Chennai cannot be ignored. People are increasingly searching for services and products online. Online shopping, in particular, has gained popularity for its time-saving convenience. While offline marketing has its limitations, SEO can bridge the gap.
"SEO is the key to transforming your business into a top brand in Chennai. Choose Dezvolta for the best SEO services."
What is the current status of the demand for SEO services in Chennai?
SEO services have witnessed substantial growth in Chennai over the years, and the demand continues to rise. More businesses, both small and large, are recognizing the importance of SEO in promoting their services. As a result, the demand for SEO services is expected to grow even further in the coming years.
"Put off no more; the most suitable moment to integrate SEO services into your plan is at hand."
"Patience is the key to success," and with Dezvolta, you'll achieve long-term success through SEO. Contact us today for the best SEO services in Chennai.
More information about our SEO services in Chennai :
If you're interested in learning more about our SEO services, we're just a call away. We can discuss how our strategies can benefit your business and provide you with a competitive edge in the online market.
"Save money while implementing effective SEO techniques with Dezvolta. Give us a call to discuss your requirements and receive the best results that last."
Most Searched Terms
"Join forces with Dezvolta to unlock the full potential of SEO for your business in the vibrant market of India."
1. SEO Company in Chennai
2. Best SEO Company in Chennai
3. TOP SEO Company in Chennai
4. SEO Services in Chennai
5. Best SEO Services in Chennai
6. Top SEO Services in Chennai
7. SEO Agency in Chennai
8. Best SEO Companies in Chennai
9. Top SEO Companies in Chennai
10. SEO Firm in Chennai